ZOWIE eXTREMESLAND CS:GO Festival 2020 - Southeast Asia Champion!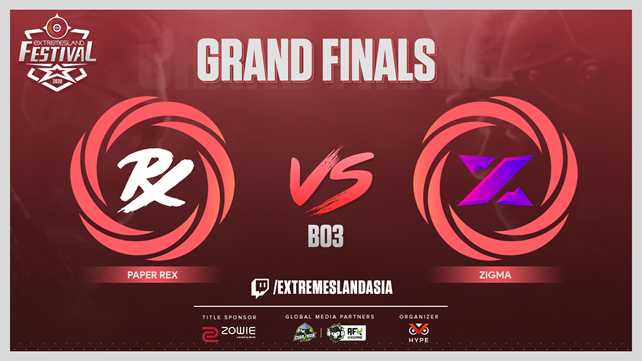 Jan 11th, 2020
Paper Rex complete the reverse sweep to beat ZIGMA 2-1 in the grand final of eXTREMESLAND 2020 Southeast Asia (Mirage 14-16, Vertigo 16-11, Train 16-10) and collect the top prize of US$1,000 and their first-ever trophy.
eXTREMESLAND 2020 Southeast Asia featured the top eight Southeast Asian teams over the weekend of January 8-10. The event used a single-elimination best-of-three (BO3) system for all the matches. The tournament's open portion took place in December last year, with approximately 80 teams taking part. US$1,500 was up for grabs, with the prize pool distributed amongst the top two finishers.
Included were the likes of HuatZai, TeamLZ, ORG LESS, and nomoney4haircut who came from the top four finishers at the open qualifier. They were matched by four invited teams who were the highest-ranked teams among S.E.A, namely Bren Esports, ZIGMA, Paper Rex, and Beyond Esports.
The playoff results went as predicted, following defeats of all open qualifier teams in the quarterfinals, leaving the four invited teams to fight for the grand final match. The multi-national team Paper Rex was the first to reach the grand final after crucial wins against HuatZai (2-0) and Beyond Esports (2-1) in the playoffs. Meanwhile, ZIGMA came out strong after defeating Indonesia's ORG LESS and the Philippines Bren Esports on a very comfortable series.
MVP of eXTREMESLAND CS:GO Festival 2020 Southeast Asia
Paper Rex's Jason "f0rsakeN" Susanto has been named the Most Valuable Player (MVP) of the tournament by eXTREMESLAND Official. The 16-year-old capped off a fantastic individual tournament with an impressive 1.25 rating. eXTREMESLAND has prepared comprehensive results regarding the tournament:
- MVP = f0rsakeN
- Most Kills = f0rsakeN (180)
- Most Assists = Benkai (64)
- Most K/D = Kntz (1.55)
- Most HS% = spielz (70.58%)
- Most Opening kill = f0rsakeN (38)
- Most Trade kill = f0rsakeN (37)
The final standings for the South East Asia finals are as follows:
1st - Paper Rex (US$1,000)
2nd - ZIGMA (US$500)
3rd - Beyond Esports
4th - Bren Esports
5-8th - nomoney4haircut
5-8th - HuatZai
5-8th - ORG LESS
5-8th - TeaMLZ
For more updates on registration links, localized streams and tournament updates please visit
our official channels:
Official Website: http://www.extremesland.com
Official Facebook Page: https://www.facebook.com/extremesland/
Official Twitter: https://twitter.com/eXTREMESLAND
Official Stream: https://twitch.tv/extremeslandasia
About eXTREMESLAND
eXTREMESLAND was created by Shengcheng Trading Ltd. in 2016. It is a professional esports organization trying its hardest to promote esports with a positive and clean image to the public as its mission. Most importantly is to be honest to the game and its fans, producing a transparent, fair, and internationally recognized esports platform. eXTREMESLAND putting its feet on the pedal, to stimulate the growth of esports, and defend the stage of honor and dreams.