ZOWIE eXTREMESLAND CS:GO Festival 2020 - Oceania Invited Teams
ZOWIE eXTREMESLAND CS:GO Festival 2020 - Oceania Invited Teams
Dec 4th, 2020
eXTREMESLAND Asia is proud to announce the 2020 edition of ZOWIE eXTREMESLAND CS:GO - Oceania! Set to start on 11th December, registered open qualifier teams will face off in an open single elimination bracket. The top four teams will move on to the playoffs and meet the four invited teams for a chance to win the top prize of US$1,000 and title of Oceania champion!
Oceania is a region full of talented teams and players, and we are happy to continue supporting the region as they fight for a position in the global CS:GO circuit. For Oceania, first place will be US$1,000, and second place is US$500.
Open qualifiers are still open for registration. Interested teams can register via FACEIT on our organizing partners page, InstaFrag. Registrations are open until December 10 Dec 2020, 21:00 (UTC +08).
Invited Teams
This year, four invited teams will make their debut in eXTREMESLAND as the force to be reckoned with. We are happy to announce the following teams have accepted their invitation: Control Esports, Downfall Gaming, Vertex Esports & Paradox Gaming.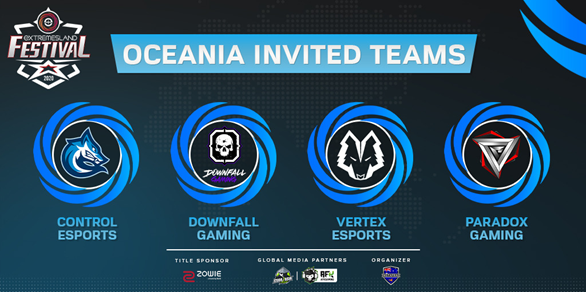 Broadcast and Talent
Our talent line-up will be revealed on our social media shortly. All regional playoffs will be featured on our eXTREMESLAND channels.
For more updates on registration links, localized streams and tournament updates please visit
our official channels:
Official Website: http://www.extremesland.com
Official Facebook Page: https://www.facebook.com/extremesland/
Official Twitter: https://twitter.com/eXTREMESLAND
Official Stream: https://twitch.tv/extremeslandasia
About eXTREMESLAND
eXTREMESLAND was created by Shengcheng Trading Ltd. in 2016. It is a professional esports organization trying its hardest to promote esports with a positive and clean image to the public as its mission. Most importantly is to be honest to the game and its fans, producing a transparent, fair, and internationally recognized esports platform. eXTREMESLAND putting its feet on the pedal, to stimulate the growth of esports, and defend the stage of honor and dreams.